The #1 Home Renovation Contractors in Holly Springs NC
If you are thinking about remodeling or renovating your home in Holly Springs, it's important to find a general contractor that you can rely on to get the job done right. Seven Generations Build Group is a licensed and insured general contractor that is locally owned and operated. We take pride in our commitment to quality and our level of customer service. Throughout your project, we make sure to communicate with you, so you always know the status of your renovations. Our goal is to deliver a professionally finished product that you can be proud to show off. It doesn't matter if you are remodeling a single room or your entire home, we have you covered.
We offer a free initial consultation so you can tell us about your project, and so that you can get a feel for working with our team. We understand that choosing the right contractor for home remodeling in Holly Springs can be a difficult, and chemistry is an important part about that decision. If you decide to work with us, we will schedule a meeting with our design team so that we can create an initial mockup. We will include every last detail, from the floor plan to the color of paint on the walls. You'll have the chance to tweak and revise the design until you are satisfied, and once you are, we will pass the documents to our construction team to implement. To get a free consultation, give us a call at 919-889-2154 or contact us online and speak to our home renovation professionals in Holly Springs today.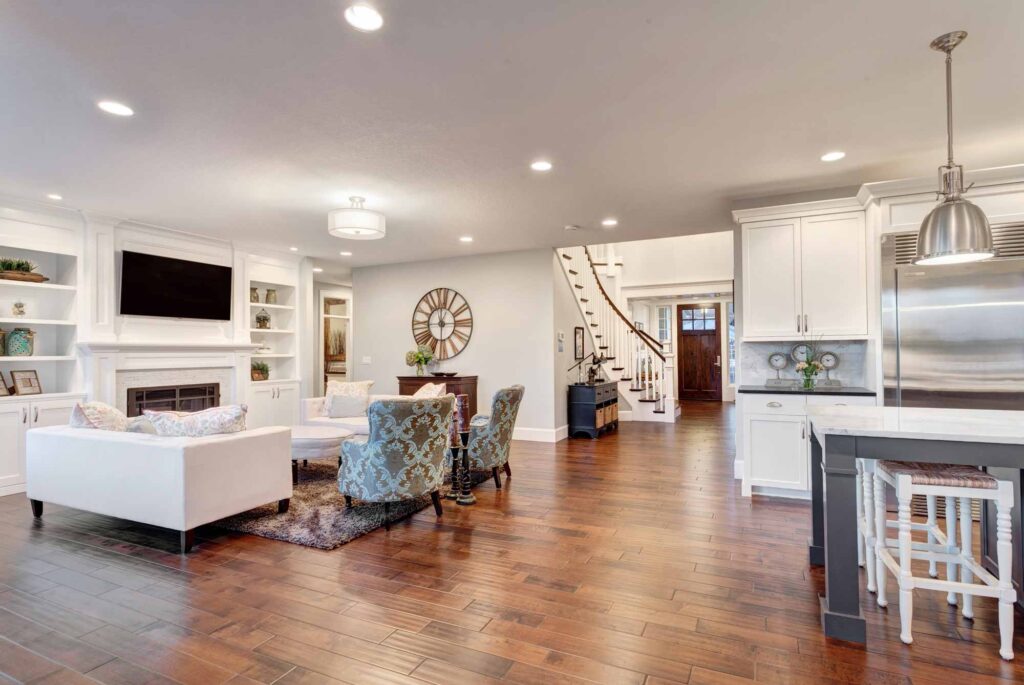 You Can Count On Seven Generations Build Group For Home Renovations in Holly Springs NC
There are a number of reasons that you should choose Seven Generations Build Group for your home renovation in Holly Springs. First, we are a licensed & insured general contractor, which means you can rest assured that we will get your project done right. However, if our decade of experience providing happy customers with home improvement projects wasn't enough, we are also members of the Home Builders Association of Wake County. That means that we design & build entire houses from scratch, so we have extensive experience with all aspects of home construction. Finally, as a locally owned company, we care about the community we are a part of and our reputation in that community. If you are considering a a home renovation in Holly Springs, we would love the opportunity to earn your business, so schedule a free, no-obligation, consultation today.
Some of Our Renovation Work
What Our Customers Are Saying
MORE THAN HOME REMODELING CONTRACTORS IN HOLLY SPRINGS
The team at Seven Generations Build Group has been providing high quality home renovations in Holly Springs for over a decade. From home additions and entire home renovations, to screened in porches, sunrooms and bathroom & kitchen remodels. But we do a lot more than just home renovations, we also build custom homes in Holly Springs. We can build in many different construction styles including rammed earth homes, trendy barndominiums, durable category 5 homes that can withstand sustained winds of up to 175MPH, and traditional custom homes. If you would like to build a dream home or renovate any part of your existing home, contact our team today.
Get a Free Quote on Home Renovations & Home Remodeling in Holly Springs NC
When you are thinking about renovating or remodeling your home, it's a good idea to hire a licensed general contractor to make sure the project goes smoothly. At Seven Generations Build Group we are a locally owned and operated general contracting company that provides both commercial & residential general contracting services in Holly Springs and throughout the Triangle area of NC. If you are looking to renovate your home and you live in Fuquay Varina, Cary, Holly Springs, Clayton, Knightdale, Apex, Zebulon, Durham, Chapel Hill, Garner, Raleigh, Wake Forest, Morrisville, or the surrounding areas, give us a call at 919-889-2154 or contact us online for a free estimate.