What Exactly Is a Barndominium?
Simply put, a barndominum is a metal shell frame, that is usually made of steel. The concept started on farms when owners would add living quarters onto an existing barn. A customizable mix between a barn and a home, barndominiums are versatile and are the latest trend among new home buyers looking for an affordable way to get everything they want out of a home. While the steel frame and shell may not sound like it would make a great home, they can be completely customized, inside and out, to create the perfect space to live, work, or play. Seven Generations Build Group can take your concept, or help you create a concept and create the perfect barndominium in Raleigh, Cary, Apex, or the rest of the Triangle area of NC. To learn more about barndominiums or to schedule a consultation, give us a call at 919-889-2154.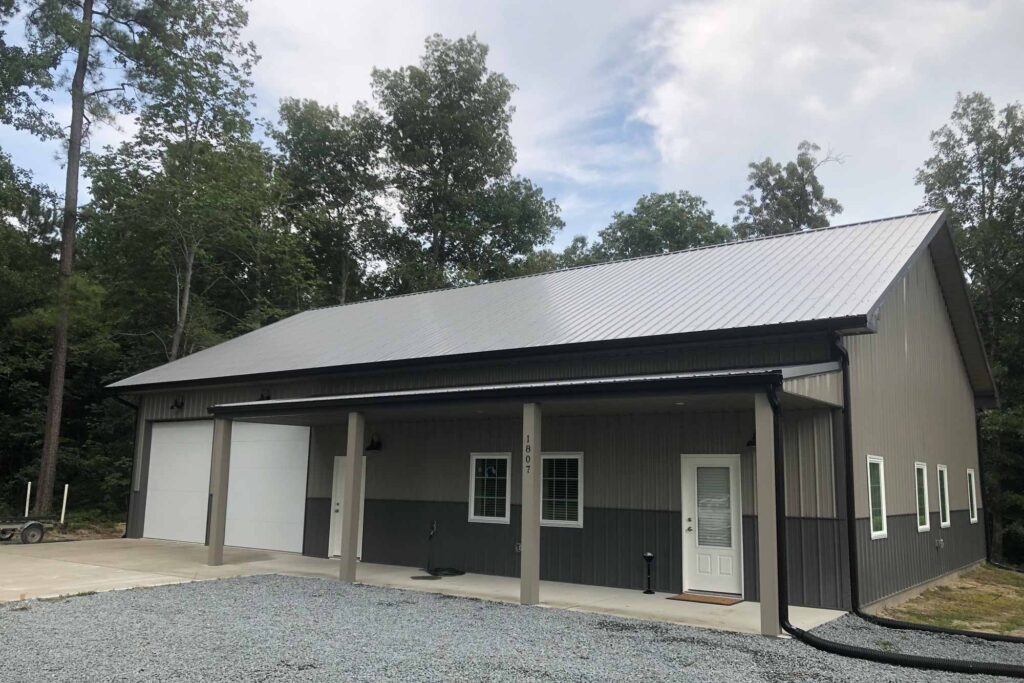 Why Choose A Barndominium in Raleigh, Cary, Apex or The Triangle?
There are a number of reasons that barndominiums make sense to build as opposed to a traditional home. For starters, barndominiums can be designed & built much faster than a traditional home, going up in weeks, as opposed to months. This translates to a cost savings since you are spending less on labor and construction costs. Since there are no load bearing walls, you have a completely open floor plan to work within, so that you can have a completely customized design that perfectly suits your needs. Not only do you save money on construction and labor costs, but barndominums have fewer maintenance costs, can be made more energy efficient, and are durable enough to withstand powerful storms. Barndominiums are a great way to quickly build the home of your dreams and have the peace of mind to know that it will last you for years. If you think a barndominium might be right for you, contact our barndominium builders in Raleigh to get a no-obligation consultation from one of our experts today.
Our Raleigh Barndominium Building Process
The process for building your barndominium starts with the first phone call, where we answer any questions you may have, while asking some of our own. If you already have a concept & design, our team can work with your blueprints, but if you don't, we will schedule a meeting to start the design process. Our designer will get to know more about your needs, style and budget, and will put together an initial mockup. We will work with you, tweaking and revising the design until it's exactly what you are completely happy with it. During this time, we can assist you in choosing the right flooring, appliances, furniture (cabinets/countertops), and anything else your new home may require. Of course, we will work within your budget and style to make sure you get the most for your dollar. Once we have all of the design & details planned out, we get to work on building your house, of course, you'll have a dedicate project manager who will be there to answer any questions and give you updates about the status of your new home.
Other Barndominium Photos
MORE THAN JUST A GENERAL CONTRACTOR IN RALEIGH WE BUILD CUSTOM HOMES
Seven Generations Build Group is the trusted home builder for custom homes, cat 5 homes, rammed earth homes, and barndominiums in Raleigh, Cary, Apex & The Triangle. As a licensed general contractor, we don't just build homes, we also can help you with renovations, home additions and more. Schedule a free consultation with us for any of your home improvement needs.
What Our Customers Are Saying
Get a No-Obligation Consultation From Our Raleigh Barndominium Builders
Seven Generations Build Group can help you design and build a barndominium to your exact specifications. More and more home buyers are looking into barndominiums because they are built quickly, affordable, durable, and the open floor plan allows you to design the space without being hindered by load-bearing walls. As home builders in Raleigh, we don't only build barndominiums, we also build traditional custom homes, category 5 homes, rammed earth homes and a variety of other construction styles. We are also licensed general contractors who provide commercial & residential general contracting services throughout our service area, which includes, but is not limited to: Wake Forest, Fuquay, Apex, Chapel Hill, Cary, Holly Springs, Morrisville, Clayton, Knightdale, Durham, Garner, Raleigh & The surrounding areas. For a free consultation from the premier barndominium builders in Raleigh, give us a call at 919-889-2154 or contact us online.